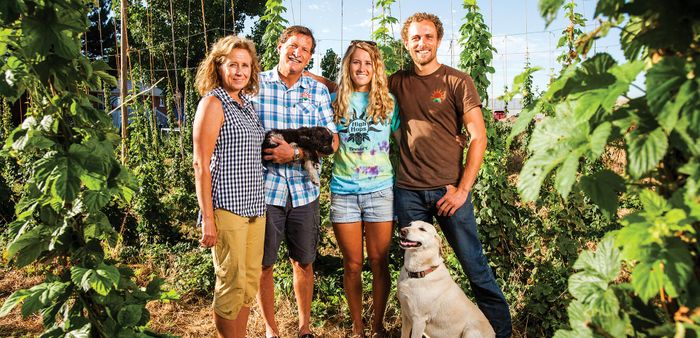 Amanda and Pat Weakland began their business journey in 1991 with Plant-A-Scape, a small, seasonal greenhouse in Windsor, Colorado. Both have a history in growing plants: Pat represents the third generation of growers in his family, and Amanda grew up helping on her family's farm and has nurtured her love for gardening since then. The small Plant-A-Scape business is now The Windsor Gardener, home of High Hops Brewery.
A growing beer culture in Northern Colorado caught the attention of Pat, who became interested in brewing his own beer. Before long, he started home-brewing every Sunday with his son, Zach. In 2006, a massive hop shortage created trouble for brewers everywhere, raising prices exponentially. Just a year later, the Weakland family planted their hop farm on-site at The Windsor Gardener to lessen the effects of the shortage. At one time, they were growing and selling 54 different varieties of hop plants in their garden center and across the US, with 14 varieties in their field to be used for beer production.
Following a hop farm, the Weaklands opened up a home-brew shop inside of the Windsor Gardener, making brewing supplies readily available to brewers in the Windsor area. The home-brews that Pat and Zach were creating were getting great feedback. With the home-grown hops and brewing supplies on-hand, a microbrewery was looking like a possibility in the future.
In early 2012, the Weaklands began to construct the brewhouse where Pat, his son Zach, and other High Hops staff members could create beers to serve in the tasting room inside of The Windsor Gardener. Windsor, Colorado would be getting its first microbrewery.
High Hops Brewery had its official Grand Opening on October 19th, 2012. In just a year, High Hops Brewery started bottling their beers and expanded The Hop Hut (the tasting room inside of The Windsor Gardener) to include an indoor beer garden as well as a patio that overlooks the on-site hop field. They then moved on to canning and currently produce seven beers year-round in cans, plus a rotating series called the Colorado Can Series that includes several different can releases a year. Several years later, High Hops Brewery's beers have won international medals and multiple golds, including a Great American Beer Festival gold medal for their gluten-free sour, Puckerberry.
The Weakland family took on another venture in 2018 with the launch of The Heart Distillery, a craft distillery located inside of The Windsor Gardener. The distillery now produces five spirits, four of which have already received accolades including the prestigious American Distilling Institute's awards for Double Gold, Best of Class, and Best of Category for their Gin, as well as Best in Category and Double Platinum for their Cask Strength Bourbon at The ASCOT Awards. The Heart Distillery also launched several canned cocktails including Colorado Spiked Seltzers, Gin and Tonics, and The Bee's Knees.
The goal at High Hops is to bring you a quality beer that is both unique and delicious & now, with 40 taps in our tasting room, we can proudly continue to provide a variety of beers. The taste preferences of Pat and Zach combined with those of our staff have given life to a family of beers that suits all.
Thus, our motto: All types of beer for all types of people.